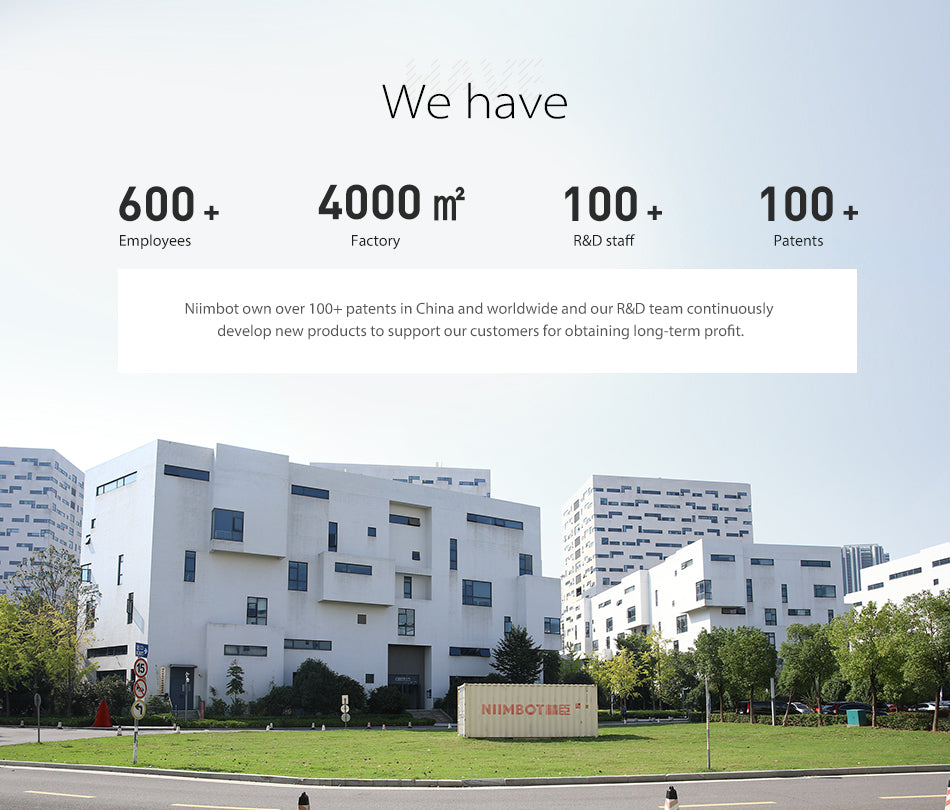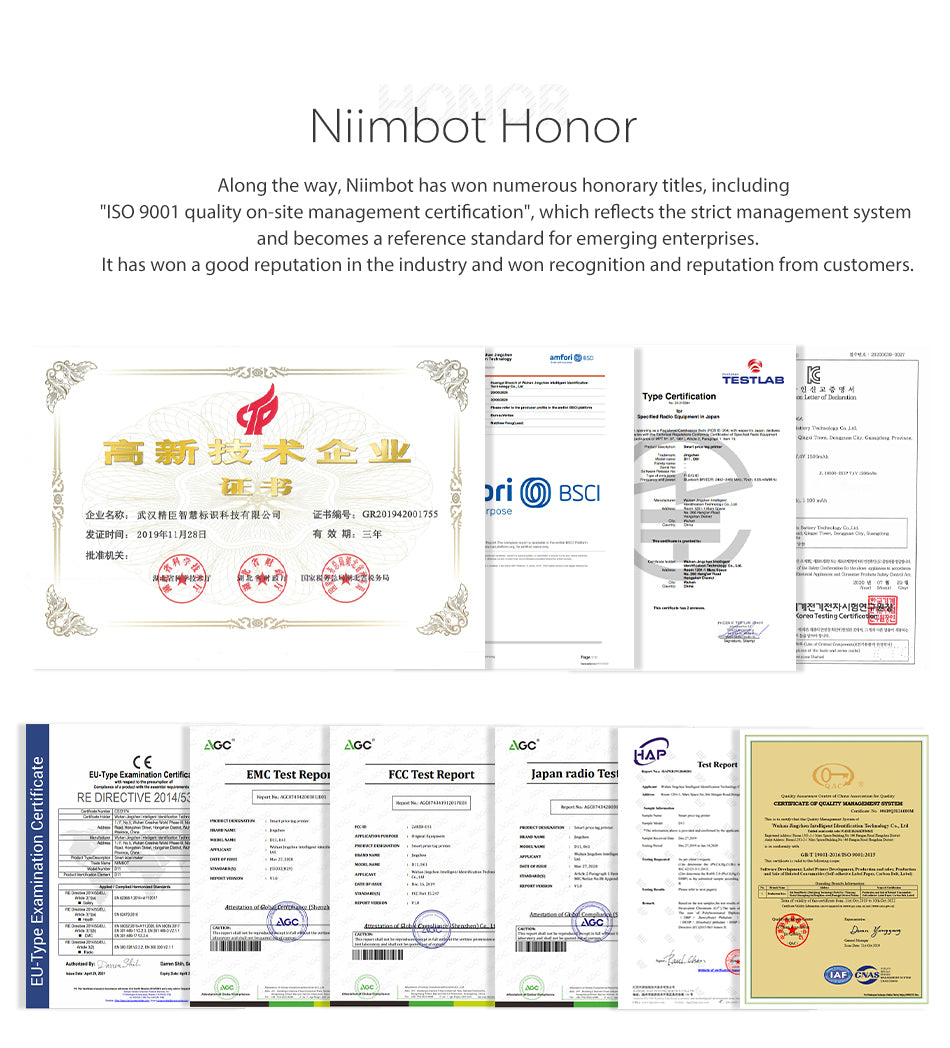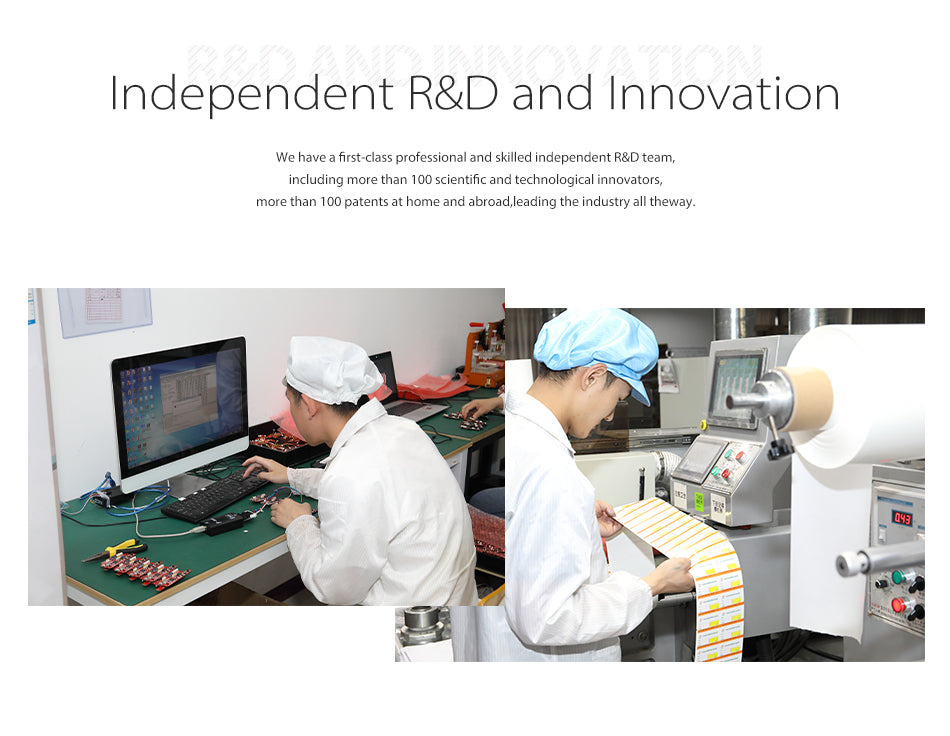 NIIMBOT held the mission of "The Simpler, The Better" and established three product systems with the core of Intelligent Hardware, NIIMBOT Cloud Service Platform of printing and Efficiency Management System. We are working on providing one-stop service from item identification to product life-cycle management and be the reliable enterprise for almost millions users in the world.
The leading enterprise of smart label printing industry
Based on self-developed portable label printer and consumables, NIIMBOT provides a smart, efficient and convenient printing service platform for business users. It combines the hardware and software of NIIMBOT printing cloud service, leading the industry transformation from PC printing to mobile intelligent printing.
With the rapid growth of label market, NIIMBOT has accurately discerned the needs from users, developed and established NIIMBOT Cloud Printing Service Platform over the past 8 years. The NIIMBOT Cloud Printing Service Platform includes the APPs of NIIMBOT Cloud Printing, Price Tagging and Industry Cloud Printing according to different usage scenarios. At present, the platform has 700,000+ registered users and 40,000 daily active users. It has become the world's largest intelligent printing cloud service platform.
In recent years, with people's pursuit of quality life, more and more household label needs have been continuously raised. So NIIMBOT has developed a variety of smart label machines suitable for home use which brings a new life experience to people. At the same time, the labeling machines have also been introduced into thousands of households, which has promoted the gradual formation of Chinese household labeling culture.
NIIMBOT has established four subsidiaries and has the largest marketing team in the Chinese printing market. The online business covers global mainstream e-commerce platforms, and export to Taiwan, the United States, Europe, Singapore, Japan, Malaysia and other countries. The product market share is leading in the industry, and the online sales volume ranks in the forefront of the industry for three consecutive years which is well recognized by users in various industries.
The practitioners for enterprise digital transformation
NIIMBOT Enterprise Efficiency Management System use tags as the entry point and smart label printers, PDAs, and FRIDs as the path to provides a customized comprehensive solution with a complete set system of production management, warehousing and logistics management, asset management and inventory management. The solution is based on the technologies of cloud computing, the internet of things, big data and artificial intelligence which help enterprises realize digital transformation and effectively solve the problems of production efficiency, cost control, scientific decision making, etc.
At present, fixed assets management and inventory management and services have been maturely applied in a wide range of fields such as power, communications, tobacco, retail, clothing, jewelry, education, etc., serving more than 600,000 customers annually.
The perseverance enterprise who insists the core of independent R&D
NIIMBOT always adheres to the needs of users and the core of independent development. Also NIIMBOT has strong technical strength and more than 16% of its annual revenue is used for R&D investment. The R&D center has hundreds of high-skilled talents with the background of well-know global enterprises. The technological innovation covers many fields, such as data acquisition, RFID, smart printing, software development, etc. Up to now, the company has 33 registered trademarks,31 software copyrights and 60 hardware patents.
Relying on technological innovation and promoting the three major product systems of transformation and integration, NIIMBOT has gradually transformed from a single intelligent hardware supplier into a supplier of full life cycle management solutions. As a leader in portable label printer industry, NIIMBOT will continue to be committed to providing more professional and complete solution services of customized identification management based on years of market experience and emerging technologies. We hope people can manage everything more orderly to make the world a better place.