NIIMBOT x B.Duck
Recently, niimbot , together with B. duck, an international first-class fashion brand, released a new series of CO branded label printers with the theme of "Jingchen Lianmeng, playing duck together".
This is the first time that B. duck, a cross-border favorite, has cooperated with Jingchen to create an intelligent and portable label printing product that focuses on young people, stimulates brand innovation and is suitable for multiple groups of people.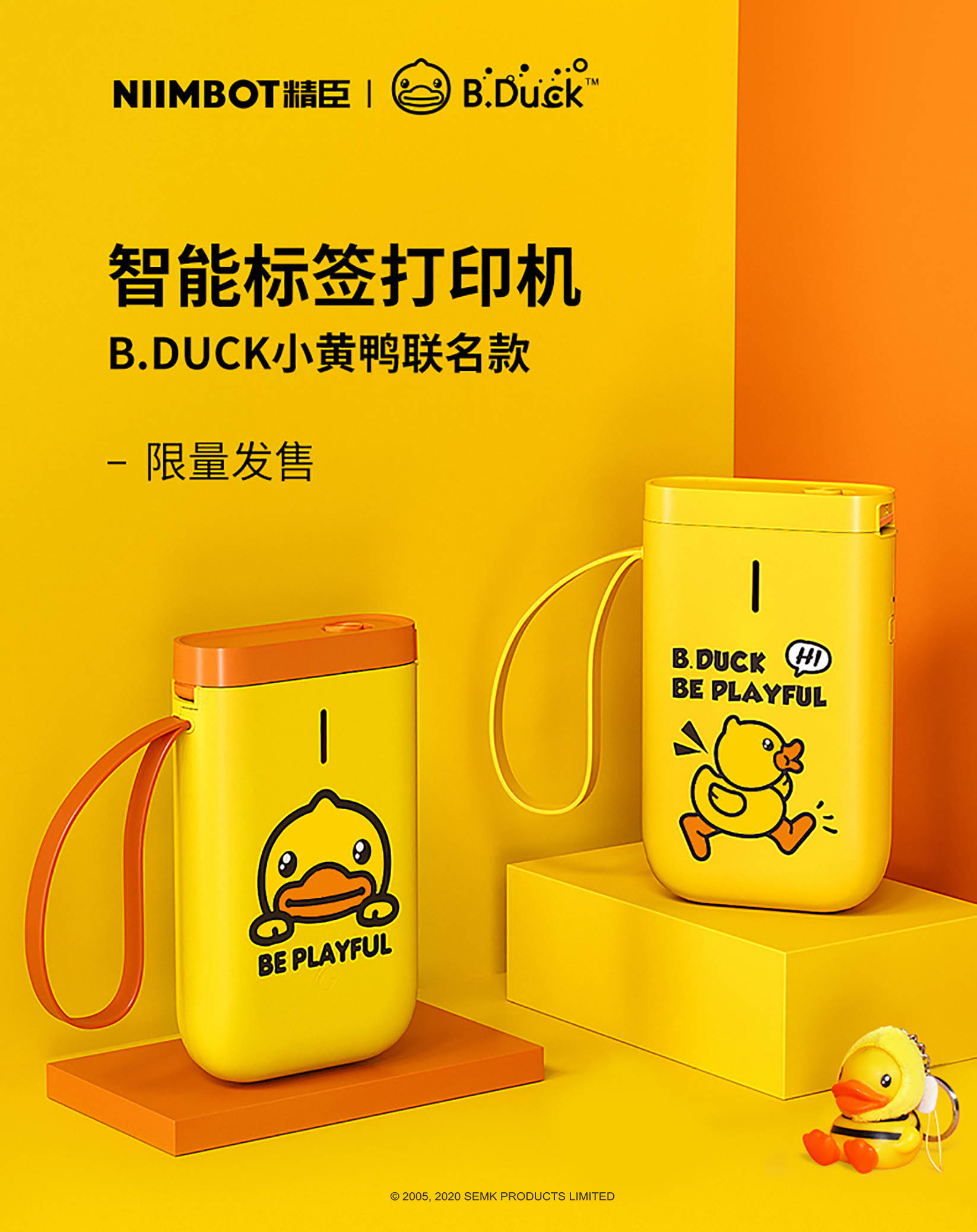 Super cute label machine, life needs happy duck
Most of Niimbot's consumer products used to adopt simple and atmospheric design style. This time, the "niimbot  × b.duck little yellow duck" co branded cooperative product has made a bold breakthrough in the appearance. With the classic image of little yellow duck as the main design element and bright color matching, it has created a fashionable intelligent label printing product with international trend and big IP attribute, which perfectly detonates the cross dimensional surprise, Young consumers will love it.
In addition to jointly developing the label machine, Niimbot and B. duck also jointly launched a number of cute and lovely label papers, creating a variety of interesting ways to play tag marks. The co branded label paper meets the users in a cute and interesting manner, striving to bring happiness to all, and at the same time, it is cute and playful. Under the background of complicated life, the simple and happy life style is becoming more and more precious. This time, Jingchen integrated the cured b.duck duckling into the label printing products, which was full of fun and full of vigor, which maximized the positive energy of lovely healing. See this C-bit joint label machine and label paper, who will not love it?
Loveliness has doubled, and there are a lot of smart technologies
In addition to the double happiness given by beauty, the intelligence of the co branded label printer can not be underestimated. Small and portable body design, weight less than 200g, ink-free fool type printing operation, simple and easy to use. Of course, the user experience is far more than a good hardware configuration. In addition to the hard power of "joint brand" and "excellent hardware", Jingchen also provides users with software app support with rich functions and strong practicability. The app not only has built-in super multi label templates, but also has many practical functions, such as scanning and printing, scanning code taking and batch printing, which is convenient and intelligent.
Various intelligent technologies not only meet the dual needs of young consumers for the practicability and fashion of label machines, but also show the unique brand charm of Jingchen leading the intelligent label printing industry!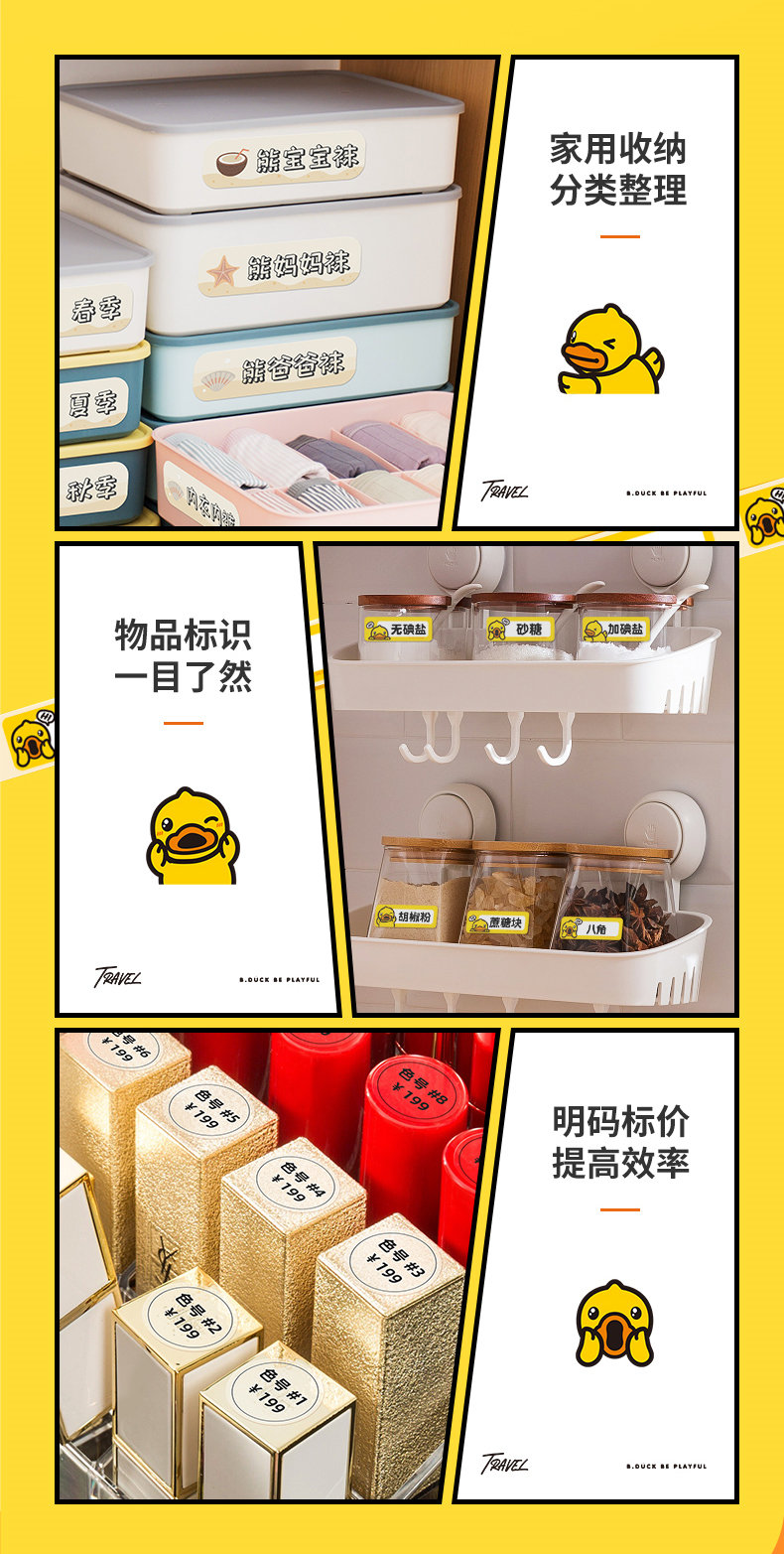 Focus on youth, create quality lifestyle
As an international first-line brand with super influence, b.duck has been carrying out cross-border cooperation with many famous international brands, such as Watsons, McDonald's and Tencent, and has launched many cool co branded products, making b.duck present in every corner of young people's life with the image of changing.
The launch of niimbot × b.duck small yellow duck co branding series label machine has also become a new attempt for Jingchen to develop personalized and fashionable development direction. With the help of this cross-border cooperation mode, Niimbot breaks through the commercial circle of label printing products, and penetrates into the life of young people who pursue fashion from the fun of fashion and product tonality, and develops more Interesting life mark play, help everyone to create their own quality lifestyle. When the cute and cute little yellow duck appears in every aspect of daily storage, life will become more beautiful, orderly and cured.
Joint launch, the first surprise
Niimbot  x B. The duck small yellow duck co branded label machine was officially put on sale in Niimbot Taobao and Jingdong stores on July 16. As the first product of the joint brand series, Niimbot naturally showed his sincerity and gave a large discount limited edition label machine cute fun gift box set (co branded label machine + CO branded label paper + B. duck small yellow duck peripheral key chain) as welfare to the majority of fans. It can be said that it is full of inspiration and surprise Keep going.
It is reported that after the joint launch, Jingchen will cooperate with B. duck ducklings to continue to launch more co branded label machine styles to create trendy products that meet the needs of different groups of people. It is worth looking forward to!